When:
October 6, 2017 – October 8, 2017
all-day
2017-10-06T00:00:00+13:00
2017-10-09T00:00:00+13:00
Where:
Thistle Hall
293 Cuba St
Te Aro, Wellington 6011
New Zealand

Cost:
Click on TICKETS on the right hand side to view pricing.
Contact:
Nikita Brown or Amanda Gourley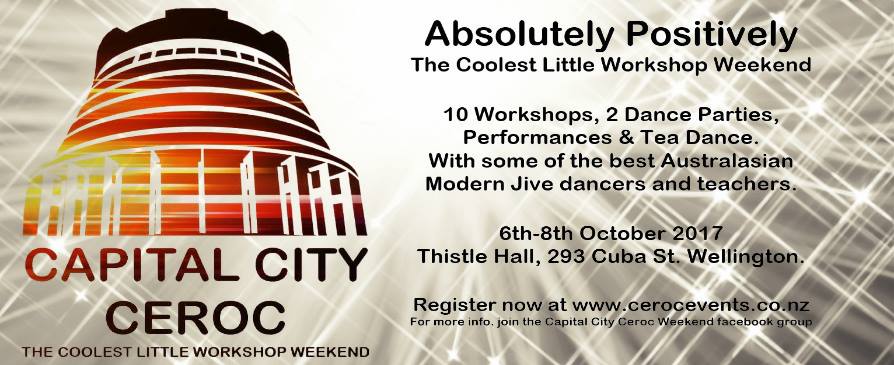 To Register and find out more about Capital City Ceroc; click on the following link: http://cerocevents.co.nz/capital-city-ceroc/
Information Updates
Information for Capital City Ceroc 2017 and updates will be announced on this website and also on our Facebook page:
Event Dates
Friday 6th October: Dance Party, performances & meet the instructors.
Saturday 7th October: Workshops & Performances and Dance Party.
Sunday 8th October: Workshops & Tea Dance.
Venues
Friday: Thistle Hall 293 Cuba St, Te Aro, Wellington.
Saturday: 8:30 am to 2:30 pm Te Whaea, New Zealand School of Dance, 11 Hutchison Road, Newtown, Wellington.
Saturday: 2:30 pm onwards Thistle Hall 293 Cuba St, Te Aro, Wellington.
Sunday: Thistle Hall 293 Cuba St, Te Aro, Wellington.
Click here to view Venues locations & maps.
Workshops
What makes these workshops different from any others?
The teachers are some of the best Australasian dancers and teachers, who all believe in the same Modern Jive basics and dancing techniques. The teaching style's are similar, meaning that the methodology and language, taught will be consistent across all 10 workshops.
They have worked hard to bring together workshop content that is the complete package, designing the timetable so that what you learn from each workshop can be carried over and applied into the workshops that follow. You will have plenty of opportunity to start applying your new learning straight away without distracting from what is currently being taught. Join our very excited teachers for a weekend of non-stop learning and social dance – 10 workshops, 2 dance parties, performances and a tea dance, Don't miss out on the Coolest Little Workshop Weekend, this October in Wellington.